To celebrate the latest accomplishments of inventing a whole new paradigm in personal computing with the iPad, and just becoming the most valuable publicly traded company in history, Apple is looking to build a new campus in Cupertino, California.  And the new campus design looks basically like a UFO.
According to the Cupertino City Council's website, Apple Inc. has submitted a development proposal for their new Apple Campus 2 on a 175 acre area bounded by I-280 to the south, Wolfe Road to the west, Homestead Road to the north and North Tantau Avenue to the east. 
The proposal includes:
An Office, Research and Development Building comprising approximately 2.8 million square feet;
A 1,000 seat Corporate Auditorium;
A Corporate Fitness Center;
Research Facilities comprising approximately 300,000 square feet;
A Central Plant; and
Associated Parking.
Cupertino's review process will consist of:
Environmental Impact Assessment (including traffic, noise, air quality, etc.) during which there will be opportunity for public comment
Development review
Public hearings at the Planning Commission and the City Council
Alright, now for the good stuff.  Check out the two design layouts for the proposed new Apple campus: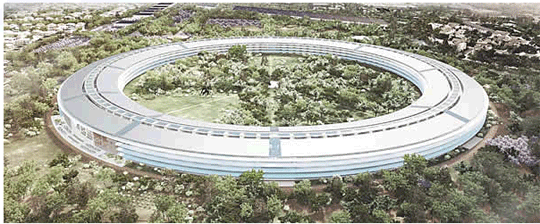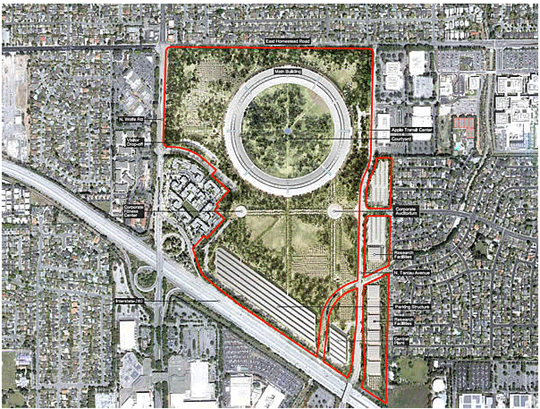 via cupertino.org