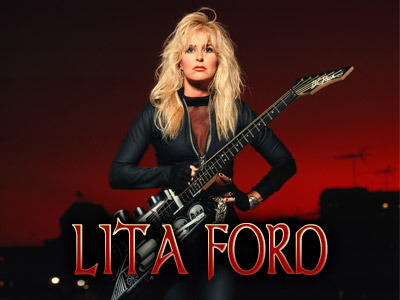 Rumors about Lita Ford being dead are just that – rumors, and according to some sites, these rumors are nasty and very distasteful.  The legendary Queen of Rock lives on…
There are some rumors floating around that Lita Ford, the Queen of Heavy Metal has died as a result of a Jet-Ski accident while on vacation in Turks and Caicos early this morning.
These rumors are not true… Lita Ford, the Queen of Heavy Metal has not died and is alive and well, according to MetalTalk.net.
The rumors about Lita Ford dying originated with the Global Associated News site, but according to MetalTalk.net, these rumors are not only made up, but are nasty and "distasteful".
It was just yesterday when a site called OurMidland did a write up about Lita Ford and her comeback after many years.
Here's the complete interview with Lita Ford:
Queen of Metal and former member of The Runaways, Lita Ford, came back to the world of music after a long hiatus a few years ago.
And it hasn't been easy.
"It's a lot of work," she said in a phone interview with the Daily News last week. "You think it'd be like riding a bike."
Ford will perform at the Soaring Eagle Casino and Resort of Friday on a bill featuring Whitesnake ( a great bunch of guys and musicians, she said) and Tesla ("like family to me").
Now, having reaccustomed herself to the world of hard rock, she's ready to keep growing as an artist.
"Now I feel like I finally have my feet on the ground and we're making a new Lita record," she said. The record will represent her growth as a singer and an artist — and herself in general.
"I wanted it to be a real Lita record," she said. What does that mean exactly?
"You'll see what I mean when you hear it." There's no firm date yet, but it could be a late 2011 or early 2012 release.
Ford, known for her songs such as "Kiss Me Deadly" and "Close My Eyes Forever" with Ozzy Osbourne, had success in hard rock in an era with few female contemporaries. Despite a long break, she still sings and plays guitar in a male-dominated music scene.
"There's not a lot of (female) guitar players," she said. "It is more of a guy thing, but the girls that are (into hard rock), there are more singers."
She grew up loving rock and was drawn to the guitar, something she picked up naturally. She joined The Runaways in her teens and eventually broke out on her solo career.
"I wanted to prove to the world that I could play guitar," she said of her post-Runaways career. "I remember trying to put together a band and I couldn't find a singer."
So, she had to learn how to sing — and play guitar at the same time.
"It was tough. I was hitting all kinds of wacky notes," she said. To fix this, she looked to some of her guitar heroes, such as Johnny Winter and Jimi Hendrix.
"They wouldn't follow their fingers with their eyes," she said. She had to learn how to play by feeling the frets rather than looking at the neck for guidance. To accomplish this, she had a custom guitar made without fret markers (the dots on the neck).
After a lot of practice, it worked, and Lita Ford, the solo artist came to be.
And for any girls interested in the guitar, pick it up, she said. It sounds like she would welcome more females into the world of hard rock.
"When I disappeared, I left a pair of shoes behind," she said. "During the 15 years I've been gone, those shoes haven't been filled."