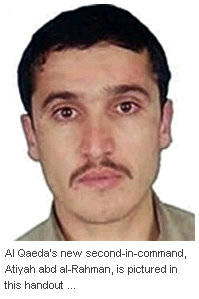 The Al Qaeda terror network is losing it's top brass at what seems to be a much faster rate.  Earlier this week, Al Qaeda's #2 man was killed in Pakistan.
WASHINGTON (Reuters) – Al Qaeda's new second-in-command was killed earlier this week in Pakistan, U.S. officials said Saturday, in a major blow to the group still reeling from the death of Osama bin Laden.
Atiyah abd al-Rahman, a Libyan national, rose to the number two spot when Ayman al-Zawahri took the reins of al Qaeda after bin Laden was killed in May in a U.S. raid in Pakistan.
One U.S. official said Rahman was killed in a strike by an unmanned drone on August 22. He was killed in Waziristan in northwest Pakistan where intelligence officials believe members of al Qaeda are hiding, other U.S. officials said.
Read the rest of the story here