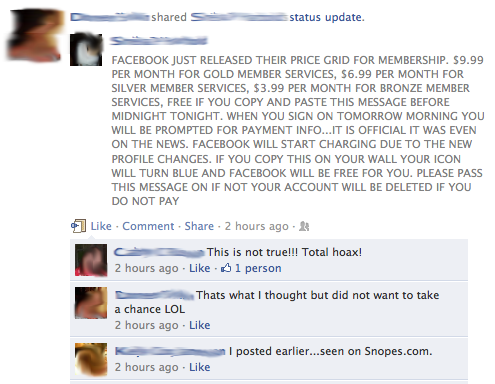 Will Facebook charge user's in 2011?  This sounds like a crazy thought, and you have probably come across a strange post from someone you know on Facebook saying that they are going to charge users in 2011 for having a Facebook account.  This news popped up after the Facebook's recent layout changes, including a mini-feed, top stories section, and recent stories section.  The fact that anyone would even consider this claim to be true is quite ridiculous.  From a logical standpoint, why would Facebook charge you when they made an average net profit of $83 million the first half of 2011?  There's no need for them to anger their user's and lose them.  Nothing to worry about, Facebook officially said they were NOT going to charge users.
One Facebook group, "300,000 MEMBERS NEEDED TO STOP FACEBOOK FROM CHARGING £/$14.99 A MONTH", has successfully attracted over 474,000 users. Another group claims Facebook will begin charging on July 1st, but it's a flat out lie used as a way to drive thousands of users to the group.
Facebook Charging Hoax Post
Here's the viral Facebook hoax message going around on Facebook trying to create hype
FACEBOOK JUST RELEASED THEIR PRICE GRID FOR MEMBERSHIP. $9.99 PER MONTH FOR GOLD MEMBER SERVICES, $6.99 PER MONTH FOR SILVER MEMBER SERVICES, $3.99 PER MONTH FOR BRONZE MEMBER SERVICES, FREE IF YOU COPY AND PASTE THIS MESSAGE BEFORE MIDNIGHT TONIGHT. WHEN YOU SIGN ON TOMORROW MORNING YOU WILL BE PROMPTED FOR PAYMENT INFO…IT IS OFFICIAL IT WAS EVEN ON THE NEWS. FACEBOOK WILL START CHARGING DUE TO THE NEW PROFILE CHANGES. IF YOU COPY THIS ON YOUR WALL YOUR ICON WILL TURN BLUE AND FACEBOOK WILL BE FREE FOR YOU. PLEASE PASS THIS MESSAGE ON IF NOT YOUR ACCOUNT WILL BE DELETED IF YOU DO NOT PAY
After browsing Mashable, I thought one of their user comments were pretty hilarious. Take a look at this one comment below:

Leave your comments below and share this stupid hoax on Facebook!