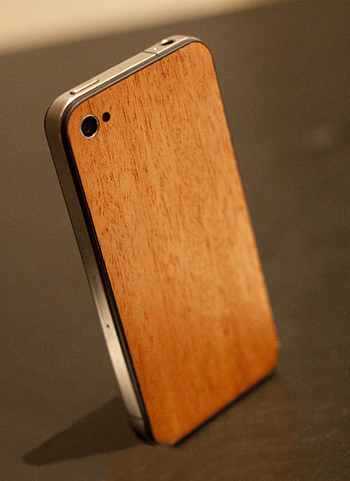 If you're looking for a real wood back for an iPhone 4 or the up and coming iPhone 5 you should check out this company, JackBacks.  They make custom wood iPhone 4 backs and are already working on wood backs for the iPhone 5.  The company is a one man operation, which adds unique touch to the product.   The wooden backs are very easy to install in place of your iPhone's glass back and come in a few different wood choices including walnut, mahogany, amber bamboo and natural bamboo.  What's even better is the fact that you can get a custom laser etched on your wooden iPhone back.   The only downside is the price of the backs.  They start at $89 for bamboo and $129 for the solid wood backs.  Etching is an extra $30.
It's pricey but I may consider getting one of these real wooden backs for my iPhone 4, and if I do I'll pay the extra for the etching because it's so cool.   When I do I'll be sure to post the unboxing and pictures of my JackBack.   Stay tuned for our article on how to replace iPhone  glass backs.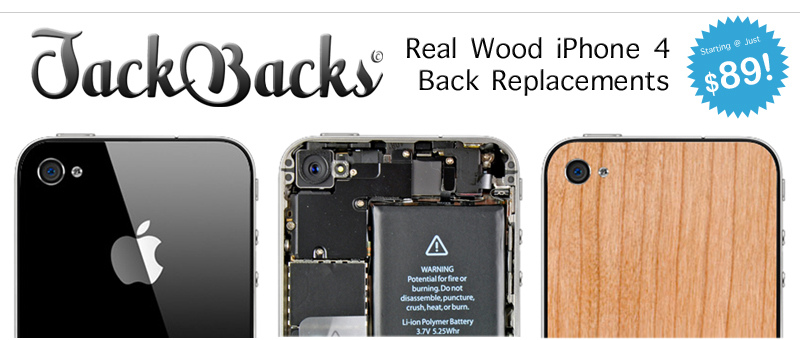 Real Wood Back for iPhone 5 Coming Soon
JackBack's already mentions they're working on the iPhone 5 wooden case:
Gizmodo reports that the iPhone 5 is just weeks away.  Here at JackBacks we believe that the new design will sport a large 4 in screen, elongated home button, super thin 7mm profile, and teardrop design.  We're not 100% sure on these design changes but are fairly confident that iPhone 5 will not be Back Replacement friendly.  Not to worry though, We recently got our hands on a few Chinese knock off cases and have been working on full Bamboo Case designs as well as real wood stick on skins.   Looks like October 4th we'll get the see the real deal.
We'll release the iPhone 5 case information once JackBacks is ready to go!
Pictures of Wooden iPhone 4 Backs