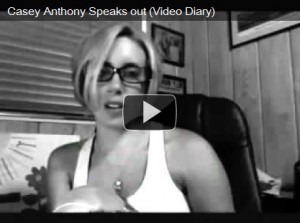 Casey Anthony made a video about her "surreal life" on YouTube in a "video diary".  It's bee six months since she was acquitted of murder charges in the death of her baby, Caylee.  Everyone knows about this horrible trial where all evidence pointed towards Casey murdering her child and somehow she was acquitted.  Well she's been in hiding since and it seem she did something crazy again, she made a Casey Anthony Youtube Video Diary. You can view some quotes from this video or view the video below.
Clips from Casey Anthony's Video
"So this is my first video diary … and I'm just starting to figure out my new computer," she begins.
"I'm extremely excited that I'll be able to Skype and obviously keep a video log, take some pictures and that I finally have something that I can call mine. … It's been a long time since I've been able to call something mine," she said.
"It's kind of nice being able to say that I have some belongings that are mine that I'll be able to take with me after I leave here next year. It's kind of funny to think about actually."
Anthony calls the new video diary "a blessing in so many ways."
"Now I have someone to talk to when I'm by myself so I'm not bothering the poor dog, who I've adopted and I love, and he's as much my dog as any of the other pets I've ever had," she said.
"The good news is things are starting to look up and things are starting to change in a good way," she said.