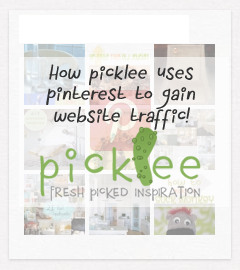 Will Pinterest soon trump Facebook, Twitter?   As of last week, Pinterest was the third most popular social networking site behind Facebook and Twitter!
Pinterests exponential growth over the past year has marketing experts buzzing and companies of all sizes leaping on board.  The site launched its Beta trial in March of 2010 and has not stopped growing since.   By December of 2011, Pinterest was listed among the top 10 social media networking sites with more than 11 million visitors a week.  Last month (February 2012) alone, Pinterest experienced over 103 million visitors.
Pinterest allows members to comment curate their own collections by "pinning" their favorite images on theme boards they've created.  When a member posts a pin, it instantly becomes visible on the home page of the member's "followers".   Any member can "re-pin" their favorite things either from those they follow or from Pinterest in general.   Pins may get even more visibility if they turn up on Pinterest's home page even for a minute of two.  The beauty of the "pins" is that they are images with direct links to the websites they originated from.  This has aided in the growth of many small and large businesses alike.
We followed one "DIY" & inspiration blog, picklee.com as they experienced tremendous growth from Pinterest in just the past couple of months.  Picklee.com creator, Jordan Crompton shares her Pinterest success story: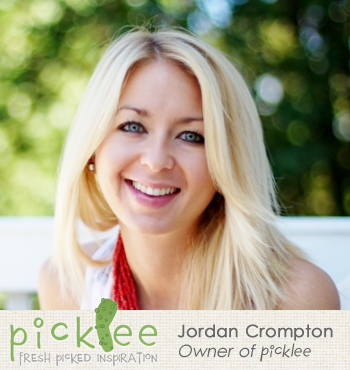 "Picklee began in the beginning of 2012 as a place for me to share my creations and inspirations.  As a home design consultant on the East Coast, I began posting my own DIY projects, furniture revival before & afters, and recipes to Picklee on a daily basis.  As I published posts on Picklee, I would occasionally upload an image of the post to my personal Pinterest account; I started receiving an unbelievable amount of traffic from Pinterest almost immediately.   Since Picklee began just a few months ago, I'm already experiencing between 200-500 visitors daily, as well as a remarkable amount of newsletter subscriptions.  I know I would never have seen such rapid growth without the use of Pinterest.  The amount of visibility Picklee has received so quickly is truly incredible and inspiring.  I will continue to use Pinterest as an outlet for sharing my creations on Picklee and I look forward to watching the growth in the future."
Pinterest has become huge in terms of referral traffic.  The website offers its own hints for companies that are looking for some bounce from the site, "re-pinning the picks of other users is one of the best ways to build a network of followers, and the more followers you have, the more visibility you will receive".  Pinterest also suggests that businesses spotlight "aspects of your brand that may not come to mind at first," such as environmentally friendly characteristics.
Like the old saying, "nothing attracts a crowd like a crowd", Pinterest is certainly drawing a massive (growing) crowd.  The next few months should be telling in terms of social media trends.  Are social media trends moving away from profiles and status updates and toward the sharing of creative interests?  It's certainly appearing that way!