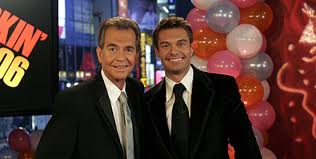 The entertainment industry is mourning the loss of Dick Clark, the famous producer, radio talkhost, "American Bandstand", and "New Year's Rockin' Eve" host.  The cause was a heart attack at the age of 82.  There are many big names in the entertainment industry who are deeply saddened, especially Ryan Seacrest, his right hand man during the New Year's Rockin' Eve broadcasts.
Ryan Seacrest shows his respect and life lessons from Dick Clark in his statement:
"I am deeply saddened by the loss of my dear friend Dick Clark. He has truly been one of the greatest influences in my life. I idolized him from the start, and I was graced early on in my career with his generous advice and counsel. When I joined his show in 2006, it was a dream come true to work with him every New Year's Eve for the last 6 years. He was smart, charming, funny and always a true gentleman. I learned a great deal from him, and I'll always be indebted to him for his faith and support of me. He was a remarkable host and businessman and left a rich legacy to television audiences around the world. We will all miss him."
Here are a few popular Tweets that came up when I searched "Dick Clark" int he hashtag section of Twitter, they include Tony Bennett, Katy Perry, and someone who I don't know but left a great lesson learned from Mr. Clark: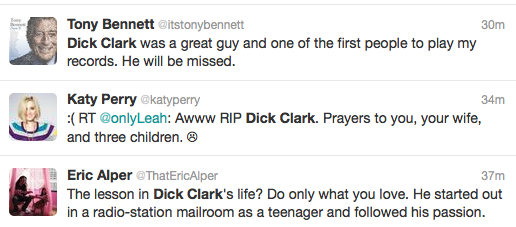 What do you remember Dick Clark from?
I didn't really even know the history of Dick Clark, and only new he was famous by being an entertainer (I'm 27 so I wasn't around for his early history!), and obviously from hosting the New Year's Rockin' Eve every year.  Well I did some research and found out that his career exploded when he was the host on a show called "American Bandstand, a show where boys and girls danced to new hits and singles.  Many popular artists showed up on American Bandstand and when Dick moved to California so did "American Bandstand!  He was popular with a variety of other shows and even the "American Music Awards.
Very sad to hear about a legend and popular host pass, but looking back at his life, you can gain knowledge and lessons from all that he accomplished.  Especially that he started working in a radio-station mailroom!  Anyway, here are some powerful pictures of Dick Clark throughout his life, I hope they inspire you!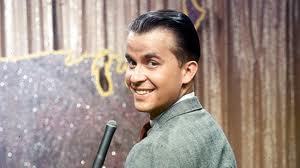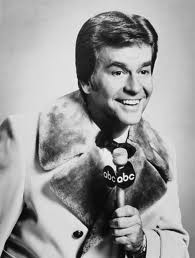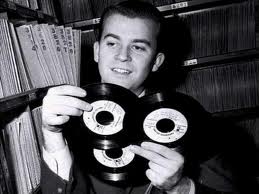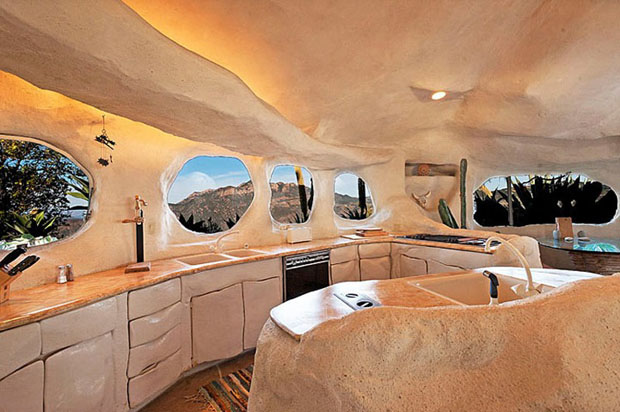 Here's the full article about Dick Clark's Flinstone Home!