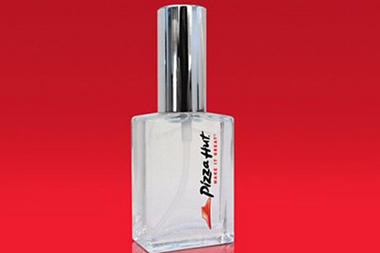 Pizza Hut released it's perfume as a promotional item and gave it away to random fans.
"Introducing Pizza Hut Perfume – a brand new fragrance from Pizza Hut Canada boasting top notes of freshly baked, hand-tossed dough," reads the press release from Pizza Hut and Yum! Brands.
"The limited edition perfume was designed to commemorate Pizza Hut Canada reaching 100,000 Facebook fans," the release reads. "Only 110 bottles were produced and shared with lucky Facebook fans who won a bottle by being among the first to share their desire for Pizza Hut perfume."
Pizza Hut Perfume really does make you want to see what it actually smells like.   It would be a funny joke gift for a secret Santa or gift swap, that's for sure.