A horrifying video shows onlookers helplessly watching as two men in a Zorb ball veer off course. The Zorb crash video shows the victim, 27-year-old Denis Burakov, and his friend Vladimir Shcherbakov, 33, at a resort in the Caucasus mountains.  The ride looks slow and fun until the Zorb veered off course.  A man tried to stop it but the Zorb kept rolling into a bad section of the mountain where the ball tumbled down a ravine.  Onlookers watch in horror, one asking: "What's down there?" A voice replies: "Nothing. Catastrophe."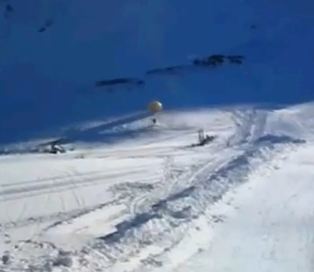 Both men were ejected from the Zorb, one died of spinal injuries on the way to the hospital and the other is recovering from spinal injuries.
Sergei Loginov, deputy director of Z-orb.ru, the largest supplier of zorbs in Russia, said the zorbing run that killed Burakov had been conducted in violation of all safety rules. Zorbing required a smooth, gentle slope, with fences on both sides of the track and a secure spot at the bottom where the ball could safely be brought to rest, he said; none of these elements had been present at Dombai.
"It's not even irresponsibility. It's an experiment on life," Loginov said. "It's all or nothing. They either survive or they don't."