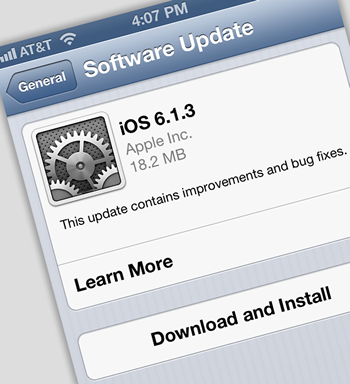 Did you know there was a recent bug that allowed users to bypass the iPhone unlock screen without knowing the code?  Well, they quickly addressed this issue with the new update.  I haven't seen too many details around that explain specifically how users were able to gain access to iPhones without the passcode, but I'm assuming it was some kind of a hack.  The new download is 18.2 mb and you can grab it now.  Check out Apple's official update information below:
About iOS 6.1.3 Software Update
This update contains improvements and bug fixes, including:
 Fixes a bug that could allow someone to bypass the passcode and access the Phone app
 Improvements to Maps in Japan
For information on the security content of this update, please visit this website: http://support.apple.com/kb/HT1222.
iOS: How to update your iPhone, iPad or iPod touch article http://support.apple.com/kb/HT4623.