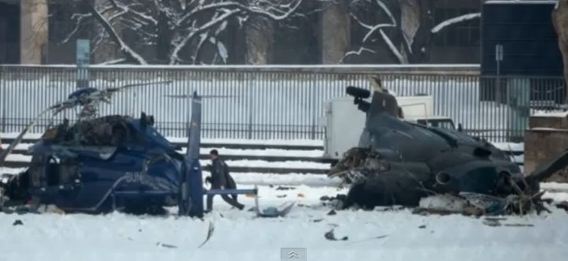 Two helicopters crashed into each other in mid-air during a police training exercise at Berlin's Olympic Stadium on Thursday, killing at least one person.  The helicopter crash was caught on video.  It's tough to see because of the snow clouding the air but you can see the team running away as they seemed to have been sprayed with debris.  One man hobbles away painfully as another stayed laying on the ground for quite some time.  The pilot was killed in the accident.
The Berlin fire brigade said that "several" others were injured in the accident, which took place at low altitude on a snowy afternoon.
"Three helicopters were in the air. It was a real snowstorm. Suddenly we heard a bang and someone shouted 'everybody down.' Then there was blood everywhere. Nearby, there was a huge pool of blood," one eyewitness told a German TV station
The third aircraft landed safely, the Tagesspiegel newspaper reported. Each helicopter was carrying between 20 and 25 people.
Helicopter crash caught on video