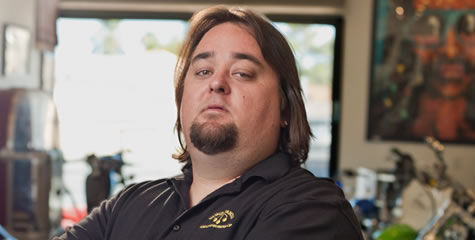 Reality Tv star Austin Russel, also known as "Chumlee" on Pawnstars is trying to prove to the world that he is still alive. Or at least someone is.
June 5, Twitter user #chumlee posted "RIP Austin "chumlee" Russell was a great man he will be missed." Later he that day he posted "I am Alive and kicking some times you can't believe the hype."
To which user Tony Lemaster replied "@chumlee_ I can't believe you're still relevant. Hasn't pawn stars been cancelled yet?" (So mean.)
Then on June 8, he uploaded a video to Vine (mobile video service for Twitter) of himself yelling "I'm alive!" While he spun around in a chair. Which he then also tweeted the link to: #not #dead #chumlee #magic #howto #selfie https://vine.co/v/bLJBUiDwJTW
So why would people think that the loveable Chumlee was dead? (Besides being obese.)
According to the Inquisitr, the hoax was started by the Internet Chronicle. A WordPress blog, which by the way is a hoax news site similar to the more popular Onion. The story of Chumlee Russel's death was posted on May 14th, by author Kilgore Trout, who by the way, claims to be Rupert Murdoch.
See link: http://www.chronicle.su/news/chumlee-of-pawn-stars-fame-dead/ (check out the comments to see pot heads arguing over whether he's dead or not)
In the post it claims that Chumlee was found dead on Tuesday morning by "Big Hoss" Harrison, after having overdosed the night before on Marijuana.
How anyone could believe this story is beyond me. Even the doctor (Dr. Angstrom H. Troubador), who is named in the report is fake. He provide comical medical advice on the website. And yet… they did.
How did the fans (apparently mostly weed enthusiasts) react to the News?
Some were sad:
"I am just beside myself over the loss of Chumlee, he was and always will be the greatest part of pawn stars. they are all great but he just was the sewing in the quilt that made it all come together. sooooo sad for his family on pawn stars. R.I.P Chum!" – Jude
May 25
Some were pissed off:
"You're stupid he did not die!!!!!! pretty sure you need to do some research before posting some shit like you just did!! hope chumlee sues your asses!!!!!!!! its called PLAGERISM!!!!!!!!!!!!!" – dee May 27 (It's called EDUCATION, Dee. And p.s. – it's plagiarism.)
And others were … paranoid:
"I would encourage keeping an eye on what happens to this guy.Looks (to me) like he's pissed someone off. -Just Sayin' May 27. (I'm just sayin' put down the pipe.)
But user "Chad" cleared everything up by saying on May 27, "I'm a personal friend of Austin's & I guarantee you he is not dead." And then then an anonymous user posted the Pawn Shop's Phone number (702)-385-7912 on May 28, with the comment to call the store and ask them if Chumlee was still alive. (Yeah, that'll prove it for sure.)
So after proving to the world that he (as well as the show Pawnstars) are still alive, he slips once again into obscurity.