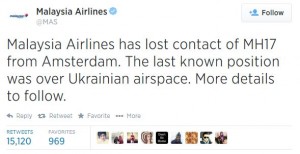 Malaysia airlines released a tweet at 8:36am EST stating they lost contact with flight MH17.
Malaysia Airlines has lost contact of MH17 from Amsterdam. The last known position was over Ukrainian airspace. More details to follow.

— Malaysia Airlines (@MAS) July 17, 2014
More updates to follow regarding the Malaysia Airlines crash.