OnePlus 5 is one of the most anticipated phones of 2017. On Monday, an insider source leaked OnePlus 5 camera design on Chinese social media platform Weibo. The image is claimed to be that of OnePlus 5 back. Interestingly, unlike previously leaked photos, this image shows OnePlus 5 having a dual camera at the back. These dual cameras are positioned horizontally on the back. Also, the camera is not in the center. It is towards the upper left corner of the rear, just below the upper antenna line. Similarly, a lozenge shaped flash unit appears adjacent to the camera module. We have the OnePlus 5 logo at about two-fifth of the way down to the phone's rear cover. Have a look at the photo.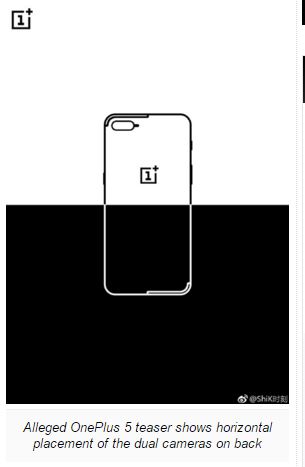 OnePlus 5 camera will be of 23 mega-pixel, according to many reports.
Last month, several notable sources leaked OnePlus 5 specs and features online. The upcoming phone will reportedly have a 5.5-inch QHD display, 8GB of RAM, 64GB of internal memory and 4,000 mAh battery. OnePlus 5 will be powered by 2 Qualcomm Snapdragon 835 CPU and Adreno 540 GPU. OnePlus 5 price is another topic of great speculations. According to many reports, OnePlus 5 will have a price tag of $449.99.