Gloria Vanderbilt died Monday morning, according ot her son, Anderson Cooper.  Gloria, a fashion legend and designer, was 95 years old.  Just 16 weeks ago she posted on Instagram as she turned 95:
Today I turn 95. It feels like yesterday i was 16 and posing for my first picture for Harper's Bazaar. There is so much i wish I had known then. I do believe that it is only once you accept that life is a tragedy that you can truly start to live…. and, oh, how i have lived! So many lives, so much work, so much love. It is incalculable.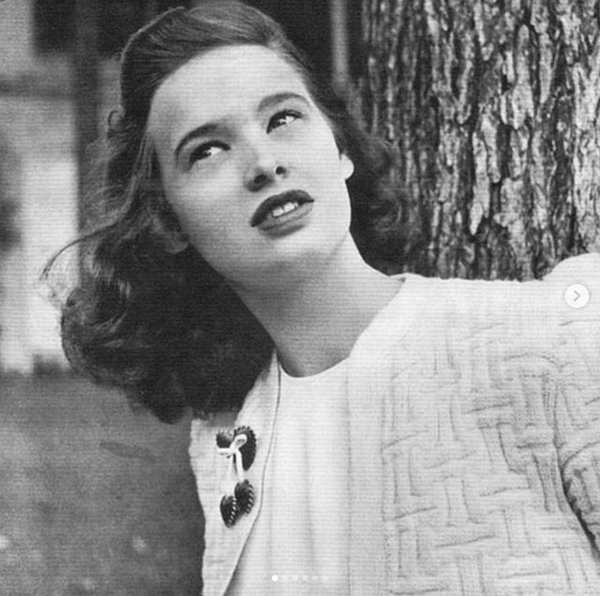 Anderson Cooper said in a statement, "She was 95 years old, but ask anyone close to her, and they'd tell you: She was the youngest person they knew — the coolest and most modern."
Just perusing her Instagram account shows how much of a passion she has for design.  One of her recent posts shows a tiled bath surround sprinkled with interesting pictures with a caption about how she likes to push boundaries:
ive always loved framed photos, artwork, and letters in a bathroom. A while back i thought, why shouldn't they be on the tiles as well? i also like painting on bathroom tiles. Why not, Star Child?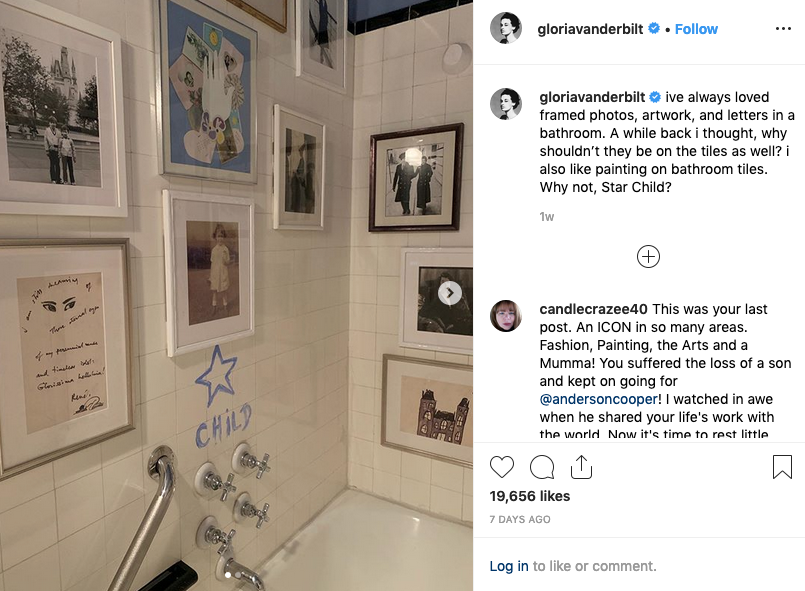 At 21, she took control of a $4.3 million trust fund her father had left her. She was well known for her textile design's winning several awards for her creativity. According to Anderson Cooper, "If you were around in early 1980s it was pretty hard to miss the jeans she helped create, but that was her public face — the one she learned to hide behind as a child," Cooper said. "Her private self, her real self — that was more fascinating and more lovely than anything she showed the public.
"I always thought of her as a visitor from another world, a traveler stranded here who'd come from a distant star that burned out long ago. I always felt it my job to protect her."
It's sad to see another designer who made a dent in the world leave, but what she left behind is amazing to look at and will be remembered forever.
I suggest taking a peak at her Instagram. I'm not sure if anyone will keep it up or if it will just stay the way it is, but it's nice to browse: