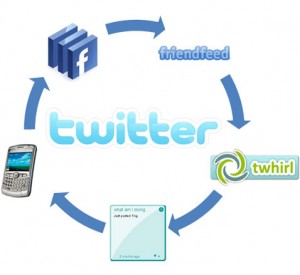 When it comes to a business making a decision on whether or not to use Twitter, the age of users on Twitter should matter?
I remember several years ago talking to businesses about using social networking sites for networking and marketing, and when referencing MySpace, the impression was that the site is made up of teens and so there's no point in interacting there.
However, this is 2009, and the age brackets on Twitter should matter to a business.
Below is a graph from recent a survey conducted by Nielsen that shows the age brackets of Twitter users – take notes: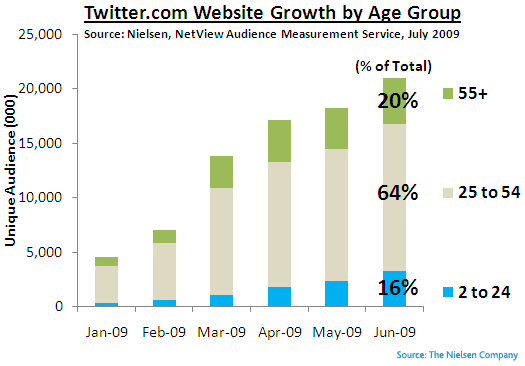 By looking at the graph above, it's obvious that Twitter is not considered a place for teens to be hanging out.  And with the overwhelming usage of 25 – 54 year old, I'm led to believe that Twitter is a place where businesses, professionals, and "the working class" are spending their time.
This is a great graph to use when making your decisions on whether or not to use Twitter for your business marketing and branding campaigns.
Networking with other professionals in your field has always been known as one of the best ways to increase opportunities for both you and your business.  Based upon the numbers of people who are within the working class age brackets, it's probably safe to conclude that people who are valuable for you to network with are in fact using Twitter as well.
As a business marketing tool, it makes sense or businesses who are selling products and services to working-class clients to use Twitter as well.  Take real estate agents for example.  The majority of homebuyers are working-class families, so using Twitter to brand your self for your specific real estate niche makes sense.
So what's the takeaway?
Look at the graph, think about your customer demographics, and then start putting together a strategy on how you're going to use Twitter to market and brand your business!
More than likely your customers – if they're from the working class demographic – can be found on Twitter which means you, as a business, can make valuable connections there as well.