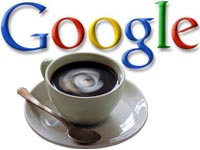 With all the hype about Google Caffeine, I wanted to go there to start testing out some searches, but then bam… it's down more maintenance!
The new Google search engine experiment is an attempt to explore faster, more efficient ways to crawl and index web pages.  Here's an excerpt from Google's official release:
To build a great web search engine, you need to:

Crawl a large chunk of the web.
Index the resulting pages and compute how reputable those pages are.
Rank and return the most relevant pages for users' queries as quickly as possible.

For the last several months, a large team of Googlers has been working on a secret project: a next-generation architecture for Google's web search. It's the first step in a process that will let us push the envelope on size, indexing speed, accuracy, comprehensiveness and other dimensions. The new infrastructure sits "under the hood" of Google's search engine, which means that most users won't notice a difference in search results. But web developers and power searchers might notice a few differences, so we're opening up a web developer preview to collect feedback.
I believe that ultimately Google is trying to find a creative way to compete with Facebook and Twitter in the real time data search market.  People are finding real time search to be more valuable and relevant that Google's traditional search results.  This is because people want to know what's happening right now – and what are people talking about right now – something Google can't deliver in it's current structure.
Also, I believe Google sees a huge monetary opportunity in real time search.  With the millions of searches being done on Twitter and Facebook, Google looks at that as "wait, I thought we were suppose to be where people come to search…"  And it's creating a major shift in focus in Google land.
Twitter's new home page redesign looks like it is geared to start encouraging more use of their real time data search engine.  And this might mean that Twitter intends to build a business model of ad revenue from the real time search results.
Whatever happens, it's going to be interesting to see where Google goes with Caffeine, and how they manage the real time search market!