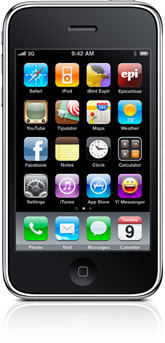 The new iPhone 3.1 OS (operating system) is now available for iPhones and iPod Touch users with 3.0 update running on their device.
With lot's of new features (see below), perhaps the highlight of the new OS is the new Genius Recommendations feature which goes beyond just music to offer suggestions for new applications based on the apps currently installed on your device.
Here's a list of new features that the iPhone 3.1 OS offers:
Genius Recommendations for Apps – Get recommendations for apps you might like based on apps you've already downloaded.
Genius Mixes – Have iTunes automatically create mixes based on what's already in your library. You don't even have to choose a sample song.
Download Ringtones Wirelessly – choose from thousands of iPhone ringtones on the iTunes Store and buy them with a tap.
Organize Apps in iTunes – Use iTunes on your computer to drag apps onto virtual Home screens, then sync them to your iPhone.
iPhone OS 3.1 also includes these features and updates:
Improved syncing for music, movies, TV shows, podcasts, and photos1
iTunes U content organization1
Redeem iTunes Gift Cards, codes, and certificates in the App Store
Display available iTunes account credits in the App Store and iTunes Store
Save video from Mail and MMS into Camera Roll
Option to "Save as new clip" when trimming a video on iPhone 3GS
Better iPhone 3G Wi-Fi performance when Bluetooth is turned on
Remotely lock iPhone with a passcode via MobileMe
Use Voice Control on iPhone 3GS with Bluetooth headsets
Paste phone numbers into the keypad
Option to use Home button to turn on accessibility features on iPhone 3GS
Warn when visiting fraudulent websites in Safari (anti-phishing)
Improved Exchange calendar syncing and invitation handling
Fixes issue that cause some app icons to display incorrectly
Here's a "how to" to update your iPhone to 3.1 OS: