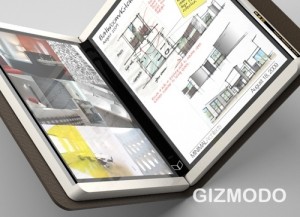 Microsoft's Tablet PC – Courier
Gizmodo.com broke the news about Microsoft's new tablet PC called Courier.
This seems to be a strike back at the rumors surrounding Apple's Tablet Notebook.
The Courier tablet PC is not yet in production and according to Gizmodo, it is still under development with Microsoft and being beta tested with various developers.
Unlike the much anticipated Applet Tablet Notebook, Courier takes the shape of a note that actually folds in half – whereas Apple's Tablet PC apparently will be one unit that is flat.
Here's the video of Microsoft's tablet PC – Courier: