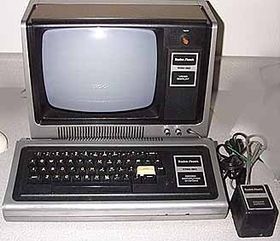 For some reason when I sat down at my computer today, I was reminiscing about when I was in the 7th and my first experience with a computer.
We walked into the little computer room, and there was about 10 TRS-80's, lined up 5 in a row.
What I remember most was our this class was a basic computer intro class.
We learned how to turn the TRS-80, which required a huge floppy disk, and then we learned some basic command prompts and other cool things.
And my how computing has changed since the 80's.  There was no Internet on these computers, there was no jump drives, and the hard drive on the TRS-80 only had 5MB of hard drive space – compared to the 1 terabyte (TB) external hard drives that you can today for a mere $100.