Google Adsense is a great way to earn revenue from advertising on your site.  There are literally millions of e-books, blogs, forums, videos, and more to help you learn about Google Adsense, not to mention Google's own Adsense help forum.
But let me quickly give you a few tips to get you started with optimizing your site for success with Google Adsense.
1) The 300 x 250 ad size is, according to Google, the most successful – and what they mean is "the most profitable – ad size to run on your site.  The 300 x 250 allows for optimal text display for text based advertisers.
This means it allows for all of the text to be read without line breaks, allowing for more engagement with the ads from your readers, and thus higher click thru rates – which equals more money for you.
Here's a 300 x 250 image ad: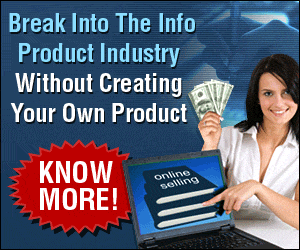 Also, the 300 x 250 ad size is home to the image ads of premium advertisers.  So if your site has a lot of traffic, but low click thru rates on text ads, then running a 300 x 250 ad size, image only selection, would be a great way to increase your ad revenue.  The revenue, of course, would come from the CPM (what advertisers are paying per 1000 impressions).
2) If you are running text based ads, then make sure you rotate the color schemes for your banners.  Research shows that overtime, ad blindness will occur to frequent visitors to your site.  Meaning, eventually people won't recognize your ads as easily as they once did, if your ad color schemes remain the same.  So get in there and change up the colors  periodically – it is proven to increase ad revenue.
3) Follow the Google Adsense profitability chart (see below).  This chart shows where the most profitable zones are to run ads within your site.  Google has no shortage of data to draw such conclusions, so I would definitely take their word for it.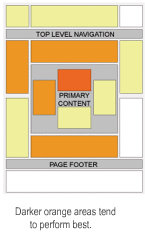 4) Finally, take advantage of "channels".  When you set up your ads, you are allowed to create custom channels.  I highly recommend creating a channel for each ad placed in your site.  For example, let's say you're running three zones of ads on a particular page – header, side bar, and footer.  I would create a custom channel for each one of these zones.
The advantage to creating a channel per ad (or per ad / per zone), is for tracking and analysis.  I used to create just one channel per site, and then ran ads in multiple zones throughout the site.  My data would only tell clicks only for my one channel – which was my entire site.
However, if I had set up channels for each ad, then I would have been able to make more educated optimization adjustments throughout my site.
The Take A Way
Google Adsense requires publishers to smart about where they place ads, what types of ads to utilize, and how these ads will be managed.  Following some simple strategies will help even the smallest scale publisher experience more revenue from their Adsense campaigns.
Here's a short presentation on how to optimize your Google Adsense campaign.
Let me know what you're experiences are with Google Adsense, how you manage your campaigns, and what tips you can share to help all of us get better!