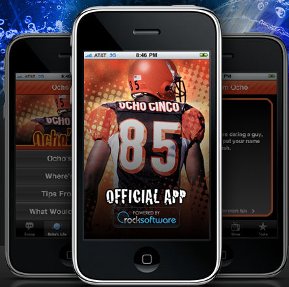 Do you love Ocho Cinco?
If so, there's an app for that!
This flood of Ocho Cinco news today has been fast and furious, and through my browsing of web pages, I finally found the highlight of all the OCNN News Network content – the Ocho Cinco iPhone App.
Just when I thought the massive pictures he has of himself on his walls (see his Twitter profile) were it, I guess it shouldn't surprise me that he now has his very own iPhone App!
So what do you think about Ocho Cinco – the OCNN News Network that he tries to run on Twitter, and of course the Ocho Cinco iPhone App?
Let us know your thoughts!