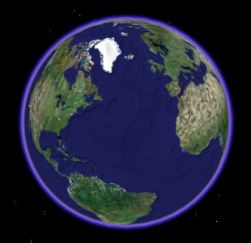 Google Earth 5.1
After only 2 short months, Google Earth 5.1 has officially come out of beta.
Google is notorious of keeping products in beta for extended periods of time.
However, Google Earth 5.1 is an anomoly!
Google Earth 5.1 has focused on what Google calls its most important feature – "PERFORMANCE!"
From Google LatLong Blog:    "The power of Google Earth is the seamless, immersive 3D fly-throughs that give you a sense of being "there," so we made a lot of adjustments under the hood to make flying around the globe faster and smoother. Today, after a few more tweaks and bug fixes, we're proud to say that we're ready to remove the beta tag."
There is also a Google Earth plugin for Mac users.
Download the amazing Google Earth 5.1 at http://earth.google.com.
And don't be surprised if shortly we see a 5.6 version that sends Google Earth right back into beta!