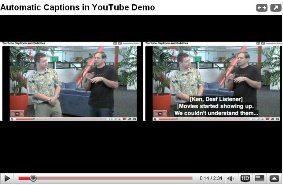 YouTube Auto Captioning (Auto Cap)
YouTube just announced the release of auto captioning that will help the deaf and hearing impaired be able to engage online videos.
YouTube auto captioning will also be applied to Google's already amazing language translation tools.
So if you – being an English speaking person – are watching a video  where everyone is speaking French, then auto captioning (auto cap) will allow you to hear the content come across in English.  Is that not amazing or what?
Helping the Deaf and Hearing Impaired
I'm especially excited that YouTube auto captioning will allow the deaf and hearing impaired to be able to engage with videos as well.
Ken Harrenstien, a YouTube Software Engineer, broke the news about YouTube Auto Captioning on the Official Google blog about 30 minutes ago.
What's ironic with Mr. Harrenstien is that, as he states in his article, he is deaf!
Here's more about YouTube Auto Captioning:
"Since we first announced captions in Google Video and YouTube, we've introduced multiple caption tracks, improved search functionality and even automatic translation. Each of these features has had great personal significance to me, not only because I helped to design them, but also because I'm deaf. Today, I'm in Washington, D.C. to announce what I consider the most important and exciting milestone yet: machine-generated automatic captions.
Since the original launch of captions in our products, we've been happy to see growth in the number of captioned videos on our services, which now number in the hundreds of thousands. This suggests that more and more people are becoming aware of how useful captions can be. As we've explained in the past, captions not only help the deaf and hearing impaired, but withmachine translation, they also enable people around the world to access video content in any of 51 languages. Captions can also improve search and even enable users to jump to the exact parts of the videos they're looking for."
Here's a video that helps you understand more about YouTube Auto Captioning: