Facebook Fan Page Sharing Button
If you're an admin to a Facebook Fan Page, you may have noticed a new sharing option next to the "Share" button on your wall.
This is a great new feature that I just noticed yesterday.  And also some people were asking about on our Facebook Fan Page as well.
Here's some more information about this great new "customized share" button for your Facebook Fan Page!

This new "Customize" feature allows page admins to target their messages to a specific demographic and geographic audience.
A lot of Fan Pages have fans from all over the world.  However, that actual business might be local to a specific geographic area.  So now page admins have the ability to specify to whom their messages are sent to.
By default, the share option is set to everyone.  This is standard way messages have been sent from your Fan Page up to this point.
Now, if you want to send a message only to a select group of individuals, all you have to do is click the new options button, and then begin identifying your target audience:

When "Customize" is chosen, you will be allowed to filter your audience by country, state, city or language.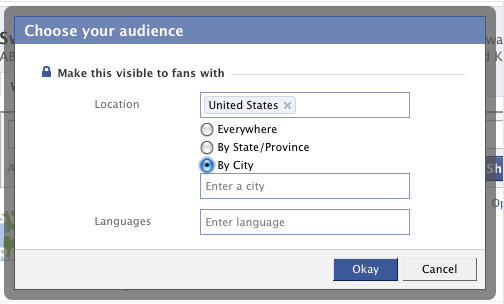 What's amazing is that you can even target your audience by a specific language!
A lot of businesses have different products and services that are targeted to a specific nationality.  And the ability to send messages based on language allows you to tailor your marketing message to that demographic.
Facebook's Desire To Help Businesses Engage Their Audience
The Internet is redefining itself into a purely social environment.
People are engaged in places on the web that are active, social, and dynamic.
And for a business, you have to find a way to get your marketing message into the social environment of the web.
This new custom sharing option for Facebook Fan Pages helps you achieve that goal!
As always, post any questions you may below and I'm happy to answer them :-)