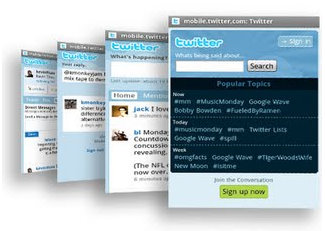 New Twitter Mobile Site
Twitter has finally released a new update to the mobile site!  Visit on your mobile phone to check it out.  This new mobile site, I must admit, is very refreshing to look at compared to the previous Twitter mobile site which looked more like a crowded text page than anything else.
Twitter announced the new mobile site yesterday via their blog:
"Our new mobile web site is previewing today, just point your phone's browser to . Its got a great new look, and has some great new touches that will make your mobile experience on Twitter a bit more fun and a lot more helpful. Let us know if you agree and especially tell us how we can make it better.
This preview works best on @Webkit browsers – Android, iPhone, Nokia S60 and Palm Web OS phones all come with these browsers installed. Other browsers like @BlackBerry work too, but we haven't done all the fine tuning yet."