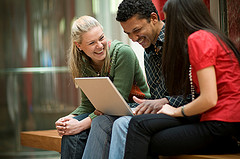 If you've ever wanted your chance to get a free laptop, nows your chance!  the University of South Florida is offering "460 student-athletes with laptops in an effort to keep them plugged into their studies while they're away from class," said Online Tampa Bay.
And these won't be just any laptop mind you… oh no – these will be top of the line MacBook Pro's from Apple!
Here's more from TBO.com:
The deal with Apple surfaced last week during a meeting of the state Board of Regents in Tampa.
Apple has partnerships with other colleges, but the company and USF officials have touted the USF program as unique for focusing on athletes.
USF is the southernmost school in the Big East. With the school's closest rival, the University of Louisville, 900 miles up Interstate 75, USF athletes spend a lot of time traveling for games.
School officials hope the computers will help transform that travel time into learning time, USF spokeswoman Lara Wade said.
The school offers no similar program to non-athletes, she said.
Jim Leavitt praised the deal struck by athletics director Doug Woolard and Judy Genshaft.
"I know they worked real hard at this thing," Leavitt said. "It's really a neat deal. It's nothing but positive stuff there."
The program is financed by money from the Bulls Club, the NCAA Academic Enhancement Fund and the Verizon Foundation.
Read more at Tampa Bay Online (TBO.com)