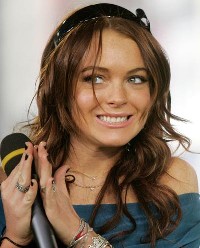 Lindsay Lohan apparently tried to take credit for freeing 40 children in India from the grips of child trafficking and labor abuse.
She is currently in India doing a documentary with the BBC that brings light to the abuses and trafficking of children.
Days prior to her arriving in India, a raid was conducted by the Indian government that freed 40 children from traffickers.
However, Lindsay Lohan, via her Twitter profile, seems to have tried to take credit for the raid and the freeing of the children – here's what she tweeted:
"Over *40 children saved* so far…… Within one day's work…… This is what life is about….. Doing THIS is a life worth living!!!"
Of course, the problem with this update is that she DID NOT in fact save 40 children – and they were not save as a result of her being in India.  They were saved by the India government before she even showed up.