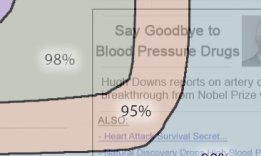 Let's say you had a "Buy Now" button, or a "Subscribe For Free" button stuffed into a corner of your website or landing page.
It's possible, without you even realizing it, that a large percentage of visitors to your site might never actually see those buttons to engage them!
This is the premise of the new Browser Size tool in Google Labs.
Some engineers at Google were discovering that on the Google Earth page, there wasn't as many people downloading the free software as they had hoped.  The visitors were coming to the page, but lower than expected downloads were occurring.
So with this problem in mind, they developed a way to analyze what portions of the webpage were being viewed the most, and what portions were not being seen at all.  What they discovered was that 10% of visitors never actually saw the download button.
You can test out your own website or landing page, and see exactly what percentage of visitors are seeing key elements of your website.
Just visit the Browser Size Tool and enter any page URL.  You'll then be presented with an overlay that you gives you a percentile reading of the traffic that is actually able to see the different portions of your website.
And if one of your key elements of your website are in the lower percentage ranges, then you might need to consider moving that element to higher percentage portion of your webpage – which, in turn, will increase your conversion rates.