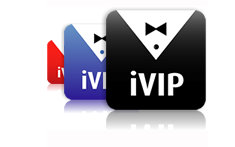 Last month I wrote about what is by far the most expensive iPhone App in the App Store called iVIP.  The app is priced at $999.99 and it comes loaded with a ton a luxury deals and privlidges that super wealthy people come to expect.
Yesterday, the iVIP website had a very short, and to the point, announcement that an upgrade is coming – the iVIP v1.2.  There were no details about the update, and there was no mention of price changes.
Just Not Anyone Can Own The iVIP iPhone App
What is great about the iVIP iPhone App is that before you actually spend your $999.99, you must be verified that you are in fact a millionaire.  It's like the millionaire's fraternity of iPhone Apps.
iVIP on The App Store (opens iTunes)
But don't worry if the $1000 price tag is a bit too much for you because there's an economy version of the iVIP called iVIP BLUE, and it only costs $499.99.
Here's a list of features of iVIP:
Limited edition iVIP Black iPhone, each individually numbered

Access to all existing iVIP privileges

Access to New York and London Penthouses

Access to private islands

iVIP racehorse ownership

Bespoke designer exclusives

Priority access to luxury brands

Personal branding services

Entourage services

Unlimited personalisation