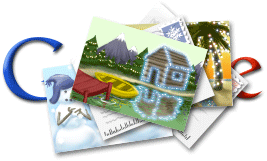 On Wednesday, Google continued it's 2009 Happy Holidays Google logos series by adding to the previous 2 day's logo.  Day 3 added what looks like a summer cabin in the mountains, but with the twist of holiday lights added to the log cabin.  Also, in the back ground you see the trees lined with Christmas lights.
See Google's previous holiday logos below:
The day 1 logo of a palm tree with Christmas lights was also a somewhat bizarre theme – the combination of a beach scene, but with Christmas lights.  The day 2 logo was more in line with a winter scene with 3 snowmen.  But here on day 3, the logo took the bizarre twist as day 1 by what appears to be combination of summer, and Christmas.  Not sure what this means, or it may not mean anything at all!
What are your thoughts so far with the Happy Holidays 2009 Google logo series?
Here's the previous 2009 Holiday Google Logos:
Day 1 Holiday Google Logo: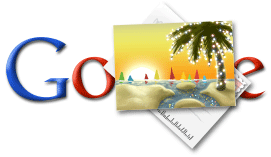 Day 2 Holiday Google Logo: