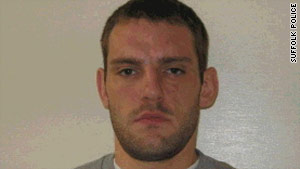 The world was quickly becoming intrigued by the Facebook updates from Craig Lynch, a prisoner who escaped Hollesley Bay open prison near Suffolk, eastern England, back in September.
Since escaping from his prison, Lynch has continued updating his Facebook status regularly – describing everything from the venison steak he just ate, to who might be his first girlfriend in 2010.
Unfortunately for the 4,000 plus fans that were following his updates, Facebook has taken down the fugitives fan page – it use to be location at .
Here's are a couple of the more popular Facebook udpates he sent out while his page was still active:
"mmm i just had a 12lb venison steak. Roasted veg and chips, bangin meal. I feel stuffed but still got room for the j.d's . Hope you enjoyed the meal babe's. We'll have to eat here again"
"Is thinkin, which lucky girl will be my first of 2010!!."
Word of Craig Lynch's Facebook page, and the story behind it, has spread quickly over the past couple of days which is why his fans have grown to over 4000, before the page was finally taken down by Facebook.
In my opinion, I think the authorities (and Facebook) should have left the page up.  Lynch would have probably become more comfortable with updating his status, which might have made it easier to capture him.
Oh well… the world will just have to wait for the next exciting drama to follow via social network – which should be happening any second now!