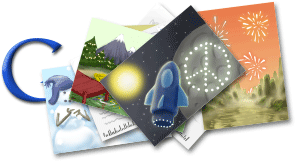 At about 12:15 am, Google continued it's 2009 Happy Holiday logos' series by adding an outer space theme'd post card, along with a peace sign on the moon.  Is this the last day we'll see the Holiday Google logos, making it an official "5 days of Christmas" series?
Today's logo seems to celebrate not only the advancement of technology, the perhaps also how technology – in the spirit of Christmas – can "give back" to universal peace throughout the world.
It's always hard to tell how long Google will continue with it's custom logo series.  My guess is that Google was running the 5 day's of Christmas logos, and we will not see anymore custom logos.  But I guess we'll find out for sure tomorrow.
Here's the previous 4 days of 2009 Happy Holiday Google logos:
Day 1 Holiday Google Logo: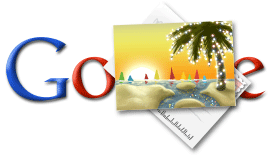 Day 2 Holiday Google Logo: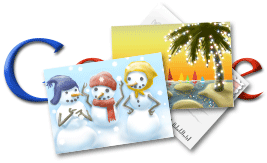 Day 3 Holiday Google Logo: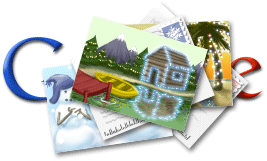 Day 4 Holiday Google Logo: