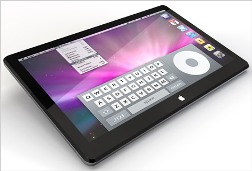 The Apple tablet rumors are buzzing on the web with a growing fever!  The most recent prediction is that the Apple tablet will be available by the end of this month (January 2010).
Apple is looking to keep it's reputation as a market and technology leader by unveiling their highly anticipated tablet device.  From the bloggers and other content on the web that I've read, Apple's tablet device is going to complete dominate the tablet – and possibly even the laptop – market in very short order.
BusinessWeek is the most recent site to release new information about the rumors surrounding the Apple tablet device.  Here's what they had to say:
"The mobile device is scheduled to go on sale in March, said the person, who declined to be identified because details of the product are private.
Offering a tablet would help Apple capitalize on demand from consumers for devices that can surf the Web and play movies and music. The product may also spark fresh competition for Amazon.com Inc. (AMZN), maker of the Kindle electronic-book reader, as well as makers of netbooks such as Acer Inc., Asustek Computer Inc. and Hewlett-Packard Co. (HPQ)
"We expect the key differentiator of the device to be its software," Gene Munster, an analyst at Piper Jaffray & Co. in Minneapolis, said in a note to clients last week. "Apple's tablet would compete well in the netbook category, even though it would not be a netbook."
Apple might sell about 1.4 million tablets in 2010 if the product goes on sale in March, Munster said. If the product sells for about $600, that would increase the company's sales by about 2 percent, he said."
[source:  BusinessWeek]