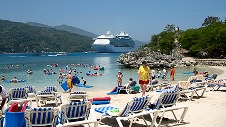 This is amazing – despite the devastation that has struck Port-au-Prince, Royal Caribbean International cruise ships are still ferrying passengers to Haiti.  Really?  Cruises are still landing in Haiti?  That's unbelievable to me!  Can we give the people in Haiti some time to grieve the 10's of thousands of people that have lost their lives?  Can we give the relief efforts some time to help people who are starving the dying of dehydration?
But when it comes to business, I guess the show must go on…
According to Sphere.com, Royal Caribbean cruise passengers visit Labadee Beach, a walled resort only 60 miles from the epicenter of the quake. On its website, the company advertises "pristine beaches," "breathtaking scenery" and "native charm." Armed guards patrol the perimeter, even under normal conditions.
This is a shame in my opinion!  Can you really relax on a beach, catch some sun, and enjoy and nice quiet vacation when you know only 60 miles away is pure destruction and devastation?
I couldn't – that's for sure.