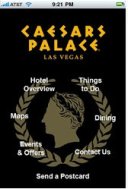 Caesars Palace in Las Vegas has just announced a new iPhone app which allows you to do a lot of cool things… including check in!  Among the many features of the Caesars Palace iPhone App being able to obtain restaurant hours, get hotel information, choose a spa or salon treatment, see who is performing in the Colosseum at Caesars Palace and more!
The app even creates a personalized Caesars Palace electronic postcard customized to display your photo on the resort's marquee sign.
Although the app isn't available yet on iTunes, BestStuff.com has obtained some pictures of what appears to be the upcoming Caesars Palace iPhone App – although I cannot confirm that: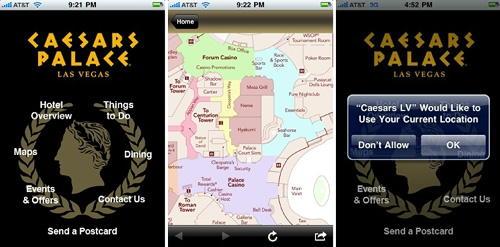 Here's more from BestStuff.com:  Caesars Palace is among the first not only to update the application content and exclusive offers 24 hours per day, but also first in the hospitality industry to feature user opt-in GPS capabilities, which can customize offers to venues conveniently located near you.
Also new to Caesars Palace is "Texpress," a mobile phone service designed to fast-track your hotel check-in. One day before you arrive, text the resort to check in. When you arrive at Caesars Palace, (if checked in via Texpress) you can by-pass the front desk check-in line and go directly to the Bell Desk, where your room keys are ready and waiting.