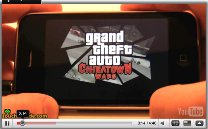 ** WARNING ** MUST BE 17 YEARS OLD TO DOWNLOAD GAME!
So if you're above the age of 17 – which my site analytics say that you are – then you might be happy to know that the hugely popular video game Grand Theft Auto is now available on the iPhone.
The cost of the Grand Theft Auto iPhone App is only $9.99 and it's sure to be a long term hit for the video game.  With 72 ratings already in iTunes, 66 of those ratings give the app 4 starts – that's pretty impressive!
The new Grand Theft Auto iPhone App is only compatible with iPhone and iPod touch (2nd generation), and requires iPhone OS 3.1 or later.
Get the new Grand Theft Auto iPhone App (opens iTunes)
Here's a video of Grand Theft Auto on the iPhone courtesy of TouchArcade.com: