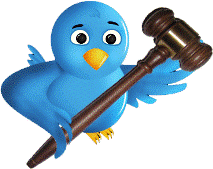 A woman in Chicago named Amanda Bonnen was a tenant in an apartment complex managed by Horizon Realty.  And apparently there was mold in the apartment that was left untreated.  So Ms. Bonnen took her complaint to the one place where she knew she'd get the most exposure – Twitter!
So as it goes with Twitter, your tweets can spread quickly for everyone to see.  And this particular tweet landed right into the laps of Horizon Realty, and in turn, took Amanda Bonnen to court by filing a libel suit, saying the tweet was malicious and defamatory.
According to CB2 Chicago, a Cook County judge has dismissed a libel lawsuit filed last year by a Chicago property firm against a tenant who used Twitter to complain about mold in her apartment.
The offending message was sent after a contractor caused a roof leak that affected some units in the building where Amanda Bonnen then lived.
On May 12, Bonnen wrote in her Twitter feed: "Who said sleeping in a moldy apartment was bad for you? Horizon realty thinks it's okay."
On Wednesday, Circuit Court Judge Diane Larsen dismissed the case with prejudice, meaning that Horizon cannot refile it. According to Bonnen's attorney, Larsen felt the tweet was too vague to meet the legal standards of libel.