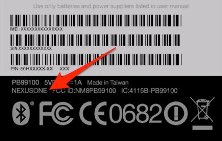 The Nexus One was Google's way of breaking free from the confines of mobile carriers that sold phones running on the Google Android OS.  Of course, just having a lot of different phones running your operating system seemed like a really great idea to me.  I thought of it as the "Windows operating system" but more mobile phone – and we know how successful that was for Bill Gates – it made him the wealthiest man in the world.
According to Engadget, there is new filing found in FCC's database that possibly shows the Nexus One is getting ready for AT&T's 3G network.
Here's more from Engadget:
That brings us to an FCC finding today. Take a look at the two labels above; the one on the right comes from the current Nexus One. The label on the left, meanwhile, is physically identical and comes from a new filing for a device with FCC ID NM899110. The old Nexus One has ID NM899100, so this new device is just a single digit off — likely a variant of the existing model. If you look into the RF reports a bit, you'll immediately notice that the new handset supports 3G on WCDMA Bands I, II, and V, meaning that it'll work on AT&T (and Rogers, Bell, and Telus for the Canadians in the room) along with most of Europe. Same label style, nearly identical model ID, different bands — we think we know what's going on here. Google, your move.
[Thanks, wonderbread]