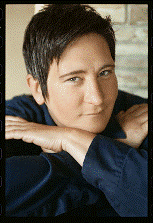 K.D. Lang's "Hallelujah" song captured the hearts of millions of viewers last night.  Her song was enlightening both to those who were in the Olympic stadium watching it live, and those of us who were tuning in on TV.  K.D. Lang was definitely one highlights of the Winter Olympic Games in Vancouver.
KD Lang is one of the top music icon's of Canada.  Last night during the openning ceremony, she performed Leonard Cohen's song "Hallelujah".
K.D Lang's performance of "Hallelujah" was stunning and the stadium audience was the witness of that, when they moved their LED flashbulbs along the song.
What was one of the coldest nights in Vancouver was warmed with K. D. Lang's performance! And I can imagine that "Hallelujah" straight to the top of the Most Popular list in iTunes.