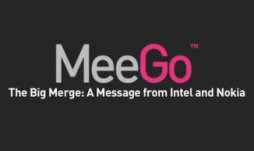 At the Mobile World Congress, Intel and Nokia announced that they're working on a new open source Linux based operating system called MeeGo.   MeeGo builds on Intel's Moblin and Nokia's Maemo platforms, and will give developers a platform upon which to build a wide range of mobile applications.
Both Intel and Nokia are getting commitments from their partners to run MeeGo, which will bring a wide range of mobile phones to the market place running the OS.
Also, both companies plan on integrating MeeGo into a wide range of devices such as vehicles, netbooks, laptops, and of course mobile phones.
The mobile phone operating system market is becoming a very competitive environment, especially with the likes of Google's Android OS.   Android has been picking up a lot of popularity lately, and is becoming widely accepted and integrated by major brands.  This environment is what MeeGo will be facing when it comes to market.
However, since there is not a lot of players in the mobile OS market place at the moment, MeeGo might be able to find a niche environment in which to thrive.
Here's Doug Fisher, Intel Vice President, and Ari Jaaksi, Nokia Vice President, talking about MeeGo and the innovations and opportunities this merge provides: