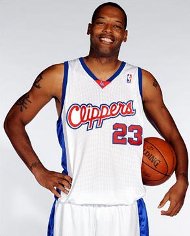 In a trade that seems superficial at first, and nothing more than an exchange of contracts, is actually a long term move for the Trial Blazers in their effort to improve their public image.  The Portland Trail Blazers have a reputation of being called "Jailblazer."  Something that does not sit well with the owner and management of the Trailblazers.
So in an effort to fix that image, the Los Angeles Clippers and Portland Trail Blazers agreed to a deal that would send Marcus Camby to the Blazers in exchange for Steve Blake and Travis Outlaw.
Marcus is well known among basketball fans as a community-oriented player, as he's been awarded numerous citations for his good work through multiple foundations.
This seems like a move by the Trailblazers to not only get a great player from Los Angeles, but also set the stage to improve their image with the public and rid themselves of the "Jailblazer" image.