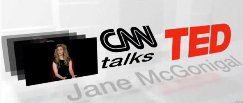 Jane McGonigal
There is no question about the influence that large news organizations have when it comes to influencing web traffic.
Less than 1 hour ago, CNN.com covered a story on Jane McGonigal.  Jane McGonigal is being called by CNN, one of "Ten fascinating people you've never heard of."
No sooner did CNN.com launch the video, and within an hour Jane McGonigal was blasted into the top 20 keyword phrases on Google Trends.
Here's the video coverage that CNN.com released on Jane McGonigal.  And you can read the entire CNN.com story here: