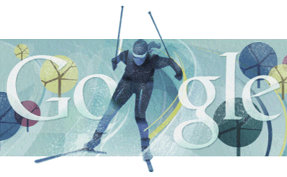 Today  is February 17th, 2010.  And day 6 of the 2010 Winter Olympic Games is upon us.  Google is continuing is celebration of the Olympic games with their Google Olympic logo series.
Today, Google is highlighting cross country skiing.  You can read more about the sport of Cross country skiing at the official Vancouver Olympics website.  What's different about today's Google Olympic logo is the color additions to the surrounding trees.  Up to this point, the colors used on the trees have been blue and yellow.  Today brings a nice addition with the color purple and green.
In today's Google Olympic logo, three purple trees have been added along with one green tree right up front.  The cross country skier looks to be a woman who is very intently focused on winning the Olympic gold!
Here's the Google Olympic Logo for day 6: