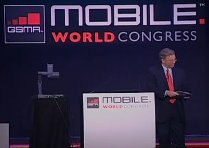 The future of the web is the mobile phone.  One of the company's that are facilitating this movement is Google.  Of course, the other company at the forefront of the mobile web is Apple.  Both company's are leading innovators of the mobile web, but Google's Nexus One currently has one major advantage over the iPhone, and that is Adobe flash capabilities.
Here's Eric Schmidt presenting the future of the mobile web at the MWC (Mobile World Congress)
Search By Voice
Currently, the Google Voice iPhone App allows you to search by speaking directly into the phone.  As does the Nexus One.  The future of the mobile web centers around speaking search queries.  But there is one missing piece that Google is heavily focused on refining.  And Google actually believes this one simple element truly defines the future of the mobile web.
Location Awareness
Location aware mobile devices allows you to speak your query into your phone, but then your phone knows exactly where you are and presents search results relevant to your exact location.  This revolution concept, according to Google, will not only revolutionize the way people search, but will also facilitate an entirely new paradigm of business marketing.
The video above is the full 1 hour plus of Eric Schmidt's presentation of the future of the mobile web when he spoke at MWC.  It's a great video to watch to get a feel of what the future web looks like, but also to hear Google's vision and their involvement in the transformation of the mobile web.