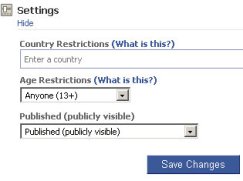 When you create your Facebook Fan Page, you are given an option to make your fan page publicly visible.  If you don't select the option to make your Fan Page publicly visible it will remain in an "unplublished" status until you change it to public.
Having a Facebook Fan Page typically implies that you are trying to reach and grow an audience of fans that are interested in what you have to offer.  But if your page is not publicly visible, then no one will be able to find it on Facebook – and that can be a huge problem.
Here's how to change your Facebook Fan Page from "private" to "public":
1) Click "Edit Page" directly underneath your Facebook Fan Page profile picture
2) The next page you come to will be your Facebook Fan Page dashboard > find the "settings" section
3) Once you find "settings" click "edit" directly underneath the "settings" section
4) On the "Published" drop down menu, select "Published (publicly visible)"
5) Click "Save Changes"
That's it!
Once you've completed the steps above, your Facebook Fan Page will become publicly available and accessible to anyone searching for it or trying to find it.
Hope that helps, and let me know if you have any questions below in the comments!