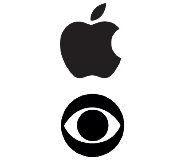 According to both The Financial Times and The New York Times, CBS will soon begin selling episodes of some television shows for $1 per episode on the iTunes Store.   The CEO of CBS, Leslie Moonves, told analysts last week that "certain shows" would be offered at the new price point, but which shows or episodes wasn't yet clear.
Is the $1 TV show via iTunes a business model that's going to work?  That's still to be seen, but certainly an interesting concept.
Apple already sells standard definition TV show episodes for $2 a piece.
CBS's willingness to experiment with a lower price meshes well with earlier reports that Apple has been working to negotiate a better rate to coincide with the iPad launch—and even considering a monthly subscription rate for downloading TV shows, according to MacWorld.com,
CBS seems to be getting its ques from the PBS, which already sells episodes of kids shows like Arthur for a buck in iTunes. (NBC also sells some $1 shows, but those are custom Olympic event recaps.)
What do you think?  Do you think a $1 per TV show business model will work in iTunes?
I'm of the opinion that as of right now, the "web to TV" technology and quality isn't where it needs to be for large scale consumer acceptance.  Granted, Apple does have an amazing entertainment system that would work well with this concept, but the price and practicality are too far out of reach for the masses.