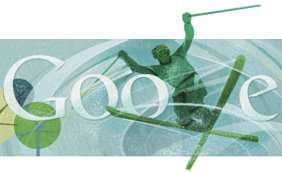 Today is February 23rd, 2010.  It's almost hard to believe that we are now 12 days into 2010 Winter Olympic Games.
Google is continuing is celebration of the Olympic games with their Google Olympic logo series.  Today, Google is featuring the sport of Freestyle Skiing.
Today is a big day for the ladies events in Freestyle Skiing, with 5 different events scheduled.
Here is the Google Olympic Logos Day 12