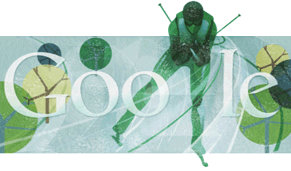 Today is February 25th, 2010. Today marks the 14th day of the 2010 Winter Olympic Games. The Closing Ceremony will be held on February 28, 2010 will also be held at BC Place.
Google continues with it's celebration of the Olympic games with their Google Olympic logo series.  Today, Google is featuring the sport of cross country skying.
What's unique about today's Google logo is that it's one of the most colorful Olympic logos we've seen up to this point.  For the past few days, the Google Olympic logos have been all blue.  Only occasionally did we see logos with greens and yellows added in.
Today's logo has taken a dramatic turn from the color trend by making the blues the minority color!
And I have to say that it is something of a relief!  I was quite frankly getting bored with the dark blue logos.
So enjoy today's logo and it's use of colors.  Tomorrow we may be back the dominant blues.
Here's today's Google Olympic Logo: